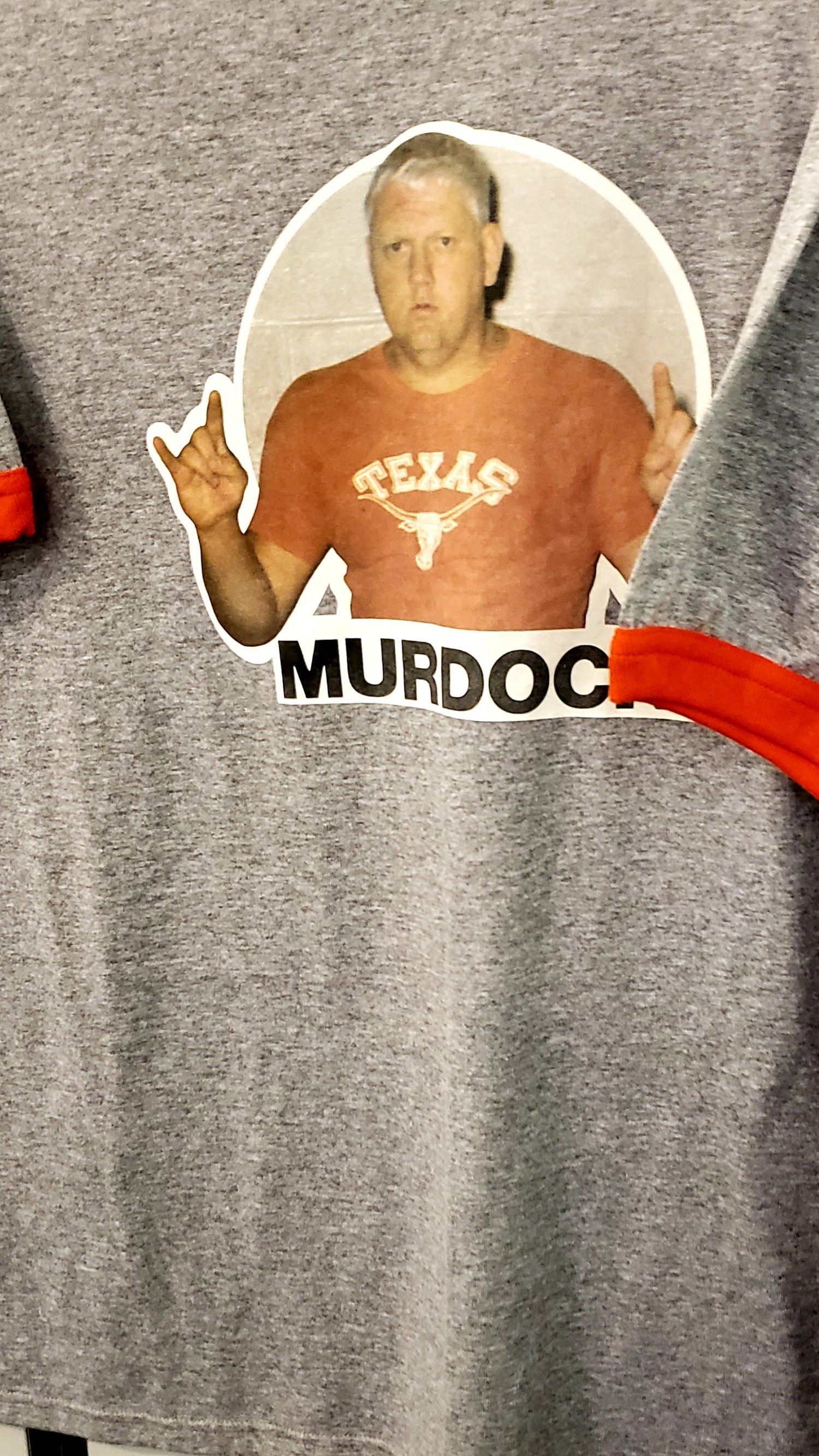 Iron Man: Dick Murdock Vintage Ringer Tee (40-Year-Old Iron-On Transfer; XXL)
(Free Priority Mail Shipping): Arguably the greatest athlete to ever come out of Waxahachie, Texas, Dick Murdock/Murdoch was one hell of a wrestler and a hell of a guy, who cut his teeth in Texas with fellow second-generation wrestling stars from the Lone Star State, Terry and Dory Funk Jr.
Although Dickie initially made his reputation as part of The Outlaws with Dusty Rhodes, he went on to have a great singles career in the States (most notably Atlanta and Mid-South) and in Japan.
The story behind this rare Dick Murdock iron-on transfer (as he was often billed in the '70s before "Murdoch" became the preferred spelling) almost sounds too good to be true—even for the rasslin' business. More than 300 iron-on transfers featuring iconic wrestling stars of the '70s and '80s were discovered sealed in a box inside a warehouse—in pristine condition. Apparently they were produced by the AWA, but weren't widely distributed (not exactly shocking, as they weren't exactly marketing geniuses.)
I entrusted these rare color-rich transfers with a speciality shop in Los Angeles, who explained that even though these transfers appeared to be perfect, the process could still be tricky, given their age. Happy to say, even their staff was amazed at the results.
Unfortunately, this is the ONLY Murdock transfer in the bunch, perfectly pressed onto a premium Augusta Sportswear, burnt orange and grey ringer tee, complement not only the overall vintage look but also the Longhorns tee ol' Capt. Redneck is sporting.
Should you be the lucky Dick fan who buys this one-of-a-kind tee, I will also include some cool Japanese mag-style stickers, and I will ship via Priority Mail (including insurance up to $50 and tracking)—free of charge to you—the same day if possible.
Once it's gone, it's gone!
50% polyester/50% cotton jersey knit * Contrast color collar and cuffs *Vintage Retro Look & Feel